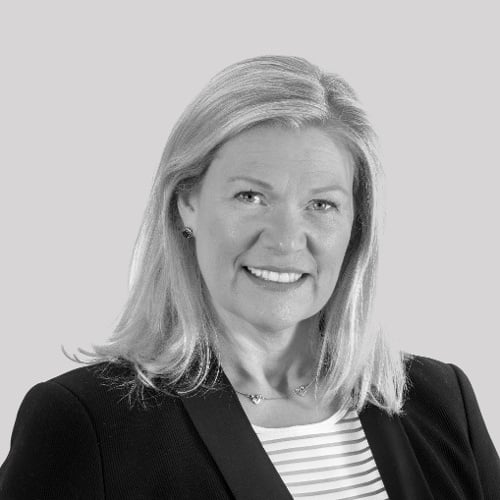 Lindsay Ball
Role:
Marketing Director
Lindsay is an accomplished Marketing Director with over 30 years' experience across SME, Plc and Private Equity and a breadth of sectors including e-commerce, healthcare, retail and hospitality, digital transformation.
A career spanning B2B and B2C businesses, her visionary and consumer centric approach underpins her application of strategic rigour to identify the growth levers, unblock barriers and fine-tune brand propositions that challenge, engage and deliver results.
An energetic and commercially astute individual who engages 'Board room to shop floor' teams in delivering a customer promise and a first-class customer experience throughout an operation. She intuitively 'gets under the skin' of customers to understand buyer behaviours and business dynamics with no fear of prioritising and evoking change or digital transformation. Lindsay has extensive skills across the full marketing mix, multi-media, innovative outreach channels eg. partnership marketing, social and content management.
Experience
Leasing.com
Led brand transformation and multi-media launch during 2019/20 pandemic to challenge showroom & PCP purchasing paradigms- Digital and Direct channels, Sponsorship contracts and commercial partnerships. Developed 'leasing expert' content and Hub to become No 1 comparison site. Re-modelled pricing and sales funnel to optimise the rapidly evolving auto market.

Beelivery.com
Led brand strategy in new on-demand grocery delivery business. Implemented £5million campaign, team build, doubling sales in 6 mths. Integral to series A and series B fund raising of £30million. Developed a defendable brand offer and LTV for management Exit

Greggs
Led Greggs brand turnaround in 2011 including digitalisation resulting in 2 million FB fans in 6 mths. Mentored insight and category marketing teams to delivery new retail day parts, store concepts, product rationalisation and NPD efficiencies.

Healthcare at Home , CARE IVF, Eaton Homecare
Led brand transformations for healthcare businesses working across Healthcare Trusts, PVT medicine, Pharma, patient pathways.

Polyco Healthline
Led brand merger in PPE sector. Embedded sales & marketing tools for 3 Industrial B2B sectors resulting in 7% LFL sales growth. Initiated PIM data-led industry catalogue, CRM and e-commerce website across c 10 sectors.

UK Bus Network (CPT)
Led Govt strategy to turnaround bus passenger travel

Previous Marketing Exec Positions at Greggs, Healthcare at Home, Stagecoach Buses, Mitchel & Butler, CG Restaurants, Boots