The pandemic accelerated a profound business trend for both B2B & B2C brands.-a massive customer shift to direct to customer digital channels and e-commerce.
D2C marketing is a relatively new phrase and space occupied by challenger/disruptor brands but it's growing enormously, particularly amongst B2B manufacturers. Why? Well as supply chains are disrupted, inflation grows, margins are squeezed and customers increasingly adopt digital channels – the gap between 'traditional B2B' businesses and B2C closes.
Brands that primarily rely on supermarkets, retailers, marketplaces and distributors to sell their products are really at the mercy of these partners. D2C means as a business you have a 'direct relationship' with your end user/customer, you acquire these customers yourself and have a customer database - ultimately you have more control of your own destiny.

BUT…D2C (particularly E-commerce) is not for the faint hearted. Amazon (90% of UK shoppers used it in 2021) has made consumers expect the Amazon slick online user experience (UX) and quick + cost effective delivery from every supplier.
Projected growth in D2C sales by 2023
Many business sectors are experiencing significant growth in D2C sales.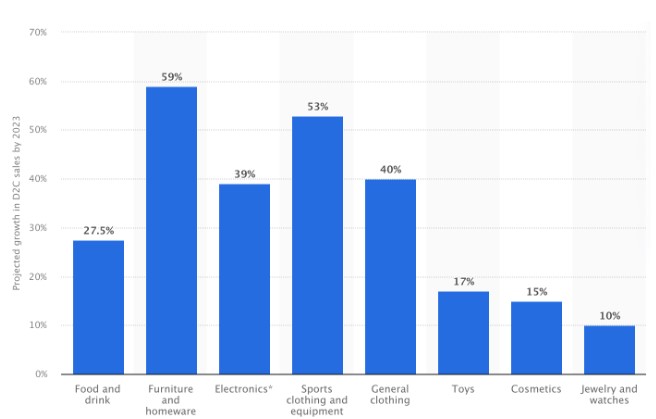 Source: Statista- Projected growth in D2C sales in the United Kingdom (UK) in 2023, by goods category


D2C: What are the key business benefits?
Having a direct relationship with your end users can open up many opportunities and significant business value. Here are some of the benefits of a D2C strategy.

D2C = Demand Generation
You have more control over your own destiny. D2C means your business is proactively in control of driving demand and acquiring customers rather than relying on someone else to sell your product.
Direct Ownership of the Customer Relationship
D2C provides the opportunity to own every step of the customer journey (including advertising, online experience/purchase, after-sales support, renewals etc…). Brands can also give customers 'exclusive' products/service, benefits and offers and the right time, which ultimately reinforces loyalty. All this helps maximise the Customer Lifetime Value (CLV).
Control of the entire Branding Experience
With D2C, your Brand is not competing for 'shelf space' with other brands. You are completely in control of your Brand environment and how it is presented to the customer and this fuels the entire customer experience. For many Brands (particularly premium brands), this is a really important objective. You also have the opportunity to develop tailored online propositions (ie. meet specific needs of this audience/have the right order value etc.…) and test new products..
Access to Customer/Shopper data
Probably the most important benefit of the D2C model is that you capture 'first-party' customer data which you own. You then have the opportunity to proactively communicate with them and understand their needs. The NPD roadmap unfolds before your eye's with products, services and exclusive offers/benefits they will embrace. This is essential in driving customer lifetime value, eg. you know when the customer is likely to need a replacement product or what other products in your range might be suitable for them. Knowing their purchase history and behaviour unlocks valuable insights.
Improved Profitability
In the medium term, the D2C model can and should bring improved profitability (providing your business already has decent margins). It follows that selling direct via your own website should deliver improved margins but clearly you have to factor in increased costs in marketing and other areas.


D2C sounds great but what are the key challenges?
The most significant change with the D2C model is the economics. The cost of acquiring customers online can be relatively expensive. This will improve as the operation scales and your marketing mix is refined but brands that just rely on 'paid channels' like Google ads and Social media will typically fail as competitors react and it's a race to the bottom. You also need lead generation and web traffic from low cost sources which is where earned social media, SEO and marketing to your existing customer base all play a critical role. As a general rule, you are likely to have a better chance of success with D2C if your margins are already pretty high and where there are opportunities to significantly reduce your CPA (cost per acquisition) over time and really grow your customer lifetime value.
D2C Customers are more demanding
Be prepared for a more demanding customer, Amazon has raised the expectation for all consumers. We now expect competitive prices online, great service, really quick delivery (at a time that suits me), easy returns and responsive after-sales support.
Operational Excellence can disrupt existing business models
As you develop real D2C scale, you need to ensure that every aspect of your operations is slick and efficient, otherwise you simply won't deliver the benefits which the customer demands, and at the cost profile that you need. These logistical and fulfillment parameters can often be very different to the B2B relationships you have previously experienced, eg no minimum order quantity, smaller pack sizes, relevant packaging. You have to manage logistics, technology, payments etc., in addition to all aspects of marketing.

Automation and AI will be an integral part of this for many businesses as you track prospects and customer behaviour and automate decision-making to drive customer convenience, eg. replacement coffee pods before you run out, maintenance contracts on appliances.

Managing a Multi-channel sales operation
If you are adding D2C to existing channels (eg. phone, retailers, marketplaces, distributors etc.…) then you are adding more complexity into your business. Customers may expect to order online and collect in-store and will seamlessly browse between channels comparing prices, delivery options and overall value, but surveys suggest that the choice and information is becoming overwhelming and can stifle sales conversion. The provision and transparency of aggregate competitor data presented to customers in 'simple comparison tables' ensures your D2C option always represents 'best value' and representation of your brand and negates the need for customers to 'shop around'.

Conversely, developing a new D2C channel can enhance 'traditional routes to market' with the benefit of increased brand awareness and 'customer pull' that influence B2B leads and improved negotiations with retailers or distributors.


Partnership and collaboration
Many manufacturers that find the marketing efforts and investment outweigh the profit opportunity are embracing strong social communities and seeking 'like-minded brand partners' with whom to share fulfillment, outreach and cross-selling.

The consumer is an equal partner in that collaboration as brands co-create products and services with their advocates. This empowerment engages them further into the brand experience. The Hut is a great example of this model.


D2C Success is ultimately about customer centricity
Many of the early pioneers of D2C have gone full circle and are now introducing retail flagships to demonstrate the brand experience such as, Hotel Chocolat, Harry's shaving, Apple's Genius bar. Putting the end customer at the heart of your business and having a laser focus on driving 'Customer Lifetime Value' is the key to a successful D2C strategy. However, the additional challenges it places on your business are not to be underestimated.


Over to you
If you are looking to transform your business, make it more resilient and ultimately grow profitability, you may benefit from the advice and guidance of experienced marketers who have trodden the D2C path many times. The Marketing Centre offers proven board-level Marketing Directors to facilitate your growth path without the fixed overhead of a full-time resource.
To find out more about the Marketing Centre and how we can support your business, contact: info@themarketingcentre.com. Or reach out to Authors, Tony Orme or Lindsay Ball.