Following complete strangers, publicly re-sharing things you've overheard them saying, telling everyone that passes on the street about a great new whitepaper your business has written … in real life, such behaviour would probably have you sectioned.
On Twitter, however, it's perfectly normal and completely expected. Twitter currently has 313m active monthly users: a vast target audience for marketers looking to cash in on a highly engaged population. Huge B2C brands—the likes of Chanel, Samsung Mobile, PlayStation, Starbucks and others—boast well over 10m followers. But what about the B2B community?
Statistics show that 42% of B2B decision makers use the social network, while over 7 in 10 B2B marketers post regular updates via Twitter. Popular doesn't mean effective, however; and while there are many benefits, to the platform, it's not right for every business.
Before we explore when and why a business should use the platform, it's important to note that there are two sides to the 'Twitter for B2B marketing' question: that of corporate Twitter accounts and the personal ones. Brands on Twitter are a different proposition to people, yet both can influence, inform and engage potential clients. We're concentrating here on company accounts, but where relevant we'll highlight where a business owner's personal account can come into play.
Choose Twitter when:
1. Brand awareness is key
When done well, you'll find Twitter a fertile ground for engagement. That key contact you've been eager to meet could well be one of the 313 million users, and it's surprising how much more engaged people can be on Twitter as opposed to, say, email, which are easily ignored or deleted. A notification on social media is a buzz; an email often a drag. Using a combination of sharing content, following industry thought leaders, searching out prospects and engaging in conversations, brands can maximise their chances of connecting and engaging with relevant Twitter users. However, a follow is a tap on the shoulder to a client you're targeting, nothing more
Twitter is the top of the marketing funnel, offering exposure to your brand.
A follow to the right person at the right time (say, a potential client you've just met at a networking event) can carry more weight, but it's still strictly a way to draw attention to the brand. The long and the short of it is that Twitter is great for grabbing attention, but if you're looking for a direct impact on your bottom line, there are more direct marketing and advertising channels that will achieve quicker results. Twitter is the top of the marketing funnel, offering exposure to your brand as opposed to effective engagement.
2. You have great content to share
Twitter advertising can also be highly targeted, with users able to target based on gender, location, interest, behaviour, device usage and a number of other factors. Prices are based on a user's budget and bid, as well as the type of campaign that they choose. This can work well for B2B businesses. US recruitment firm Greenhouse saw a 62% conversion rate from site visits to newsletter sign-ups and a 15% increase in subscribers as a result of a paid campaign, while SiriusDecisions generated 16x their ROI using Twitter ads to boost ticket sales for their B2B conference. The key is in sharing the right kind of content to draw engagement with your target audience. These can include high-value ebooks, whitepapers and insightful blog posts. If you're producing these already, Twitter is a natural channel for distribution.
3. You're happy to discuss as well as broadcast
Twitter's core focus is on engagement rather than broadcast. A common mistake made by brands is to take a sales-focused approach and tweet messages focussed only on self-promotion. This will not only be of little interest to a brand's followers, but is against commonly received Twitter etiquette. To gain the most from Twitter, a B2B brand needs to be active and engaging, adding personality to the brand by getting involved in discussions about relevant topics, sharing breaking industry news with commentary, answering questions from those looking for expertise in a certain area. With interaction comes trust and brand recognition - and it pays to look at brands who are doing it right.
4. You have a strategy for handling public complaints
Consumers use Twitter for a variety of reasons—one of which is as a complaints tool. 36% of consumers use social media platforms to contact large firms, while 65% have stated that it's a better way to get in touch than via a call centre. Why? Because complaints are handled quickly, professionally and generally positively, as they are made in a public domain rather than via private correspondence. It's a platform that allows a brand's users to inform the brand of their dissatisfaction at the same time as making the wider community aware of the problems that they have had.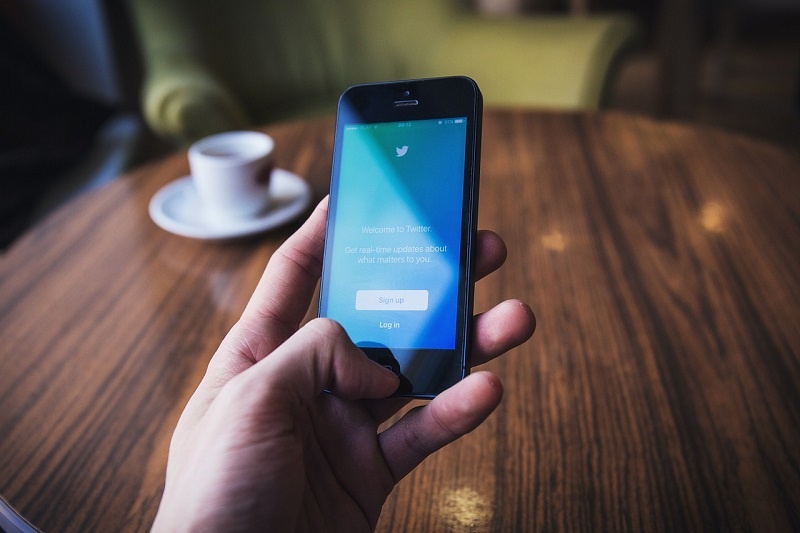 Turning to Twitter: Many consumers are now making complaints to brands publicly via the service Any brand using Twitter as part of their marketing mix—whether B2B or B2C—should have a complaint-handling procedure in place. Failing to deal with complaints in a timely, professional way will prove harmful. When used in the right way, Twitter can reap plenty of rewards for B2B businesses: inbound marketing and sales platform HubSpot, for instance, have amassed over 700,000 followers. The team posts regular, relevant content (see point 2) meaning that they are seen as an authority in their sector. They don't only broadcast, however: they also engage with followers, and have even been known to hand over the account to their CEO for a day; giving personality to the business and making it appear less corporate. So far, so good. But when should a business ignore Twitter and look elsewhere?
Don't choose Twitter if:
1. You need to deliver direct sales
As things currently stand, it is relatively hard to understand the ROI of organic (ie. not paid-for) Twitter activity. While analytics tools do exist, it can be tough to track how prospects convert into paying customers. While proxys for such statistics exist, some marketing departments or finance teams may be unwilling to invest employee time without seeing a well-defined return.
2. You're unable to dedicate the time and resources required
Twitter requires plenty of time and employee investment. It's most successful when used on a regular basis, with constant updates and interaction to keep a brand top of mind. According to a 2016 report from Social Media Examiner, 63% of marketers spend six or more hours per week on social media. Over half of those who spend 11 hours or more a week on social activity say that it has improved sales - this figure rises to 74% of those who devote 40 hours or more.
It's most successful when used on a regular basis, with constant updates and interaction to keep a brand top of mind.
Some businesses fall into the trap of setting up a Twitter account, using it regularly for a few weeks, then letting it slide. For those searching for the brand on Twitter, such a gap between periods of usage can suggest that a company no longer operates, or that it has no interest in staying up to date with its market and its customers. A set period of time should be set aside each week for Twitter engagement, and tweets scheduled using Hootsuite or a similar tool to maintain activity.
3. You don't have the support of the wider team
While managing Twitter activity can be the role of one individual, it works best when multiple employees have a say in how the account is run. While leaving it to a junior member of staff can be the most cost-effective option, more senior team members will have the knowledge of the business and the marketplace that are worth sharing online.
Without buy-in and an agreement to contribute from the entire business, and an alignment with team business goals, a Twitter strategy may not succeed. Twitter is a very different beast to the likes of LinkedIn, and requires time, effort and regular, conversational updates for the best chance of success.
If your business' customers are active Twitter users, you're happy to engage meaningfully with others, can handle public complaints and your social media strategy fits with the platform's strength, Twitter may be a good option. If time is an issue, the wider team are unwilling to get involved or you need detailed ROI reports, your marketing budget may be better spent elsewhere.