I haven't got enough leads.'
Sound familiar? You might have uttered these infamous words yourself. Why? Because growth has slowed, you've hit a brick wall. But leads themselves aren't a long-term strategy for business growth. Solid marketing is.
On paper, growing a business seems easy. Among owners and operators, there is a common thread of thought: if you pour money into a sales drive, you'll acquire more customers. More money comes in, and the problem is solved.
On a very basic level, this is sound thinking and does yield a short-term return on investment. But it isn't efficient or sustainable, as at each stage of the sales funnel you will naturally lose leads.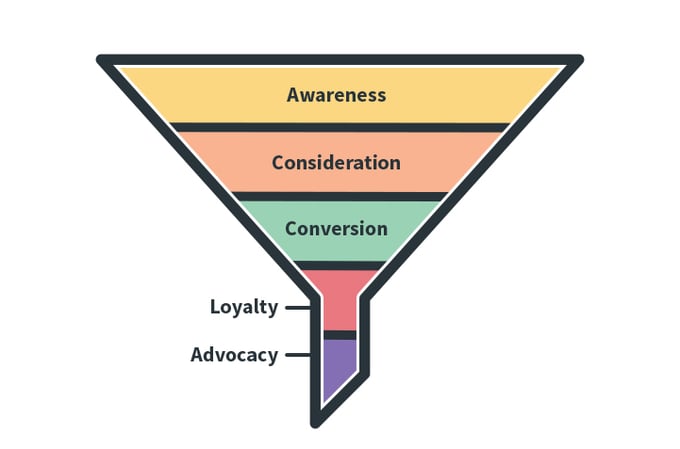 Losing leads is normal, marketing keeps it to a minimum
There are several reasons for why every business loses leads through sales funnel. Not all of them will be within your control, but some are.
Not everyone aware of your brand will be impressed
Marketing, when done well, will establish a strong brand voice that will resonate with your ideal customer. It should speak to them about their issues, in their language. But, not everyone will be an ideal customer. There might be a misalignment in your values. Or, they simply have no need for your products and services, so your messaging won't land.
A clear brand proposition, however, will ensure that you don't lose prospects that would want to engage with your content. This means there will be more leads to push further down the sales funnel, and are more likely to convert to sales leads down the line.
Not everyone who's impressed will look into what you do
Don't consider this as a loss. Some people, despite you grabbing their attention, won't dig deeper to find out what you do. There are reasons for this:
They don't have issues to resolve. They like what you're saying, but what you're selling brings them no value.
They don't need you. Maybe they're happy with their current products and services. This is still a win—if things change in the future, they should remember you.
They aren't ready to buy. It may be a budgeting issue or a problem with stakeholder alignment. Exploring your brand any further would be a waste of their time, despite your message resonating.
Not everyone who looks will buy
You've built awareness around your brand, and people are interested. This is where they research your offerings, and you present valuable content that helps them make an informed decision.
Unfortunately, this is also the stage where you could lose interest. If you don't provide content that answers their search queries, you won't push them further down the funnel.
Think about your prospects' pain points. Consider the goals they're trying to achieve. How can you meet their needs, and what can the sales team use to prove this?
This is where resources like case studies are particularly useful. The success stories of your previous and current clients will help convince prospects of the validity of your credentials, and the value you can bring to their business.
You also need to make sure you target your messaging to every stage of the buyer's journey. Nurture your prospects from the top of the funnel all the way down until they're ready to engage with the sales team. And optimise your content, so search engines recognise it as valuable and potential customers easily find what they're searching for.
Not everyone who buys will recommend
Word of mouth can make or break a brand. But when your customers are happy, it doesn't mean they'll recommend you.
They might not have the time to talk to other companies in their sector. Or, perhaps they're new to the industry or work in a niche field and lack the opportunity to pass on their thoughts.
But it could also be because you're too good. They simply don't want to share your offerings with their competitors. Take it as a compliment, and offer an incentive for them to spread the word.
A better strategy for business growth
A more solid strategy for business growth means ensuring that your pipeline is filled with plenty of good leads. That those leads are nurtured and warm when they're passed to sales. And that a good ratio of leads reaches the bottom of the funnel, ready to buy. This strategy is marketing. It's a long-term plan for continued, sustainable growth, rather than mere sales and promotion.
The Marketing Centre takes a broad view of marketing and business growth. Our Marketing 360 Assessment covers four areas that your marketing needs to address in order to develop a robust customer base:
DEFINE your brand, business culture and values, with a focus on clear messaging to make you distinct from your competition.

Your brand should be a memorable business identity that your ideal customers can identify with, resonate with and recognise across any touchpoint you have with them.
Your culture and values will attract customers who have similar viewpoints. They should value not just what you provide, but how you provide it and why.

FIND appropriate prospects as well as distribution channels and routes to market. Marketing isn't just about what you sell, but where you sell it. The right avenue will enable you to promote your identity and unique value to customers. Diversifying to explore multiple avenues will also mean you avoid missing out on potential revenue (as long as the ROI makes it worthwhile).
WIN those customers through your sales method and team. Once a customer is engaged with your brand and values, they're ready for the sales team. The team's pitch will be more successful if they're speaking to a customer's pain points and goals.
KEEP them through a retention strategy that's all about building loyalty. Retention is the operative word when we talk about business growth, as it's by far cheaper than customer acquisition. Customer retention means planning your pricing and promotions around people coming back. It also means developing your products and services so they have a reason to come back, and training management to think beyond the simple sale.
Our approach covers not just the strategy for your business, but also the day-to-day implementation and the personnel executing it.
This covers a lot of ground that most people wouldn't associate with marketing, but marketing is all about how you make yourself known to customers. It's about how you communicate with them, and how you keep them around.
It's also how you establish yourself as a brand that people recognise, rather than a company that might be perfectly good at what it does, but is one among many. A company without a brand is more or less worthless.
All of your decisions should support or align with the brand. And this means that all your business decisions are effectively marketing decisions.
Tear down the wall
Growth is about more than making money off each sale. If you want to grow in more than fits and starts, you'll need a thorough and rigorous marketing strategy. It should develop your business as a whole and focus your decisions on growth. That's why the Marketing Centre exists. We'll provide the expertise that will allow you to focus on your growth, and tear down that brick wall for good.