Which tactics are generating the most leads?
How much are businesses investing in their marketing?
One of the advantages of having a nationwide network of part-time Marketing Directors is that we can ask these kinds of questions. And so every year we survey our team to hear what their clients are up to and how it's working.What did we learn this time?
Email still leads as the most popular lead gen tactic, followed by LinkedIn
Businesses are spending more on marketing than they did last year
Offline channels like telephone prospecting continue to fall in popularity

Let's dig a little deeper into each of these and then share a few perspectives from our team.

Email and LinkedIn outreach are the top lead gen tactics right now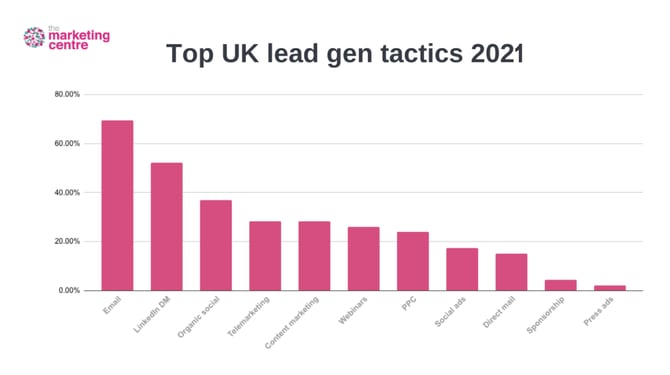 Email is the most popular tactic by a long shot. It achieved more or less the same margin as last year, showing that for UK SMEs, email is still the channel of choice for generating new leads. LinkedIn outreach came second, closely followed by organic social media activity, PPC and blogging.
What's this data telling us?
This graph shows that, despite the occasional 'email is dead' thinkpiece you see online, email is very much alive. Cold outreach still works (when done right) and a well-segmented CRM database is a huge asset.

When email doesn't work it's rarely to do with email as a channel. It's usually because you're sending the wrong messages to the wrong people.

It also highlights something that we've talked about a few times. All B2B businesses should be taking LinkedIn seriously.

There is a tendency to see LinkedIn as trivial and websites as important because websites are where leads used to come from. This is no longer the case.

LinkedIn is a proven lead gen channel. If you want to make better use of it, here are a few articles that will help:
Generate more leads on LinkedIn

Sign up to our LinkedIn Programme and start growing your business on LinkedIn in just eight weeks.
SMEs are increasing their marketing investment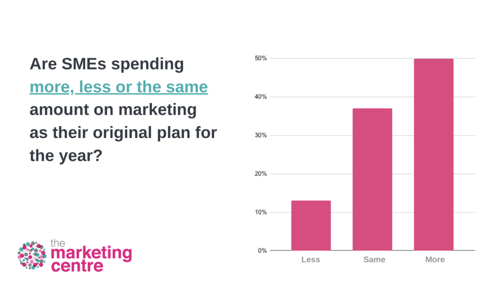 Last year's survey found that the majority of UK SMEs were spending more on marketing than they'd originally planned to before the pandemic. This trend has continued into this year, with almost 80% of respondents saying they were spending somewhat more or a great deal more on marketing than last year.
What's this data telling us?
Business owners are, understandably, feeling more confident than they were last year. New opportunities have presented themselves in the wake of the pandemic and the economy is back on its feet.

Businesses have also had the opportunity to step back, take stock and evaluate what they're doing and where their business is headed. This has given them time to rethink their proposition or develop new offerings. Stepping up investment in marketing ensures that these new ideas make it to market and drive a positive ROI.
What's changed since last year?
One of the biggest changes is that cold calling dropped from fourth place to third from the bottom. It's worth mentioning here that qualifying leads over the phone is still delivering results for our team. But cold calling is a lot less effective than it used to be.

Working from home has made it much harder to reach leads by phone. Marketing Directors have realised this and shifted the budget away from telemarketing and towards other channels.

Face-to-face events are back in the mix, making up almost 20% of the vote. This probably explains why webinars fell by about 10% compared with last year. Virtual events may be here to stay, but it's nice to see face-to-face events back in contention.
Business owners are being more strategic about marketing after the pandemic
Robert Stead, Marketing Director with The Marketing Centre
Connect with Robert on LinkedIn
Businesses have had the opportunity to take a step back and evaluate what they're doing and where they want to go. Business owners understand that getting their marketing in order is key if they want to push for growth over the next few years.

In many cases, this has meant a shift away from an ad-hoc approach to a more sophisticated, joined-up and strategic approach. Basically, rather than doing lots of 'small things', people are doing one or two 'big things'. I like to think of this as taking more of a 'campaign' approach.

There are three things you need in order to do this well:
1) Contact: the right people to talk to
2) Content: something interesting to say to them
3) Process: a way to deliver the content to the contacts so that you can measure results and reach the magic 7-9 touchpoints you usually need before a contact converts
LinkedIn reliably delivers results when used in the right way
Christine Durkin - Part-Time Marketing Director with The Marketing Centre
Connect with Christine on LinkedIn
LinkedIn has proved itself to be a great source of new leads for the companies that I work with. I've used it personally and I've worked with business development and sales teams to help them see how to use it themselves. I can't claim to have 'cracked the code', but I've found a way of using it that seems to work for now.

That said, it's really important to use it in the right way. There are plenty of mass automation tools available that can help you connect with and message huge numbers of people, but this tends to be less effective than doing it yourself and focusing on finding the right people, introducing yourself and building the relationship.

My current routine and what I suggest to others is to spend 30 minutes every morning making around 30 connection requests and chatting to the connections I do have via DM. It's a simple system, but simple is good if you're going to be doing it every day.

I'd invite anyone to try it out for a month and see how you get on.
Webinars can work really well - but it's all about details
Brian Hardie - Part-Time Marketing Director with The Marketing Centre
Connect with Brian on LinkedIn
In the early days of the pandemic everyone was signing up for webinars because they filled that void of not being able to meet people. But I saw that while plenty of people were signing up, webinars weren't always generating real returns in terms of qualifying leads through to the next stage of the sales process.

What we've seen is that running webinars with a solid ROI is all about the details. How are you selecting the right people to join? How are you following up? What reason are you giving prospects for moving on to the next stage?

What we're currently doing is running relatively short webinars and with small audiences of just business owners. We give them value in the initial session, then we follow up and offer a one-to-one personalised session covering the same info in much more depth. This approach has proven to be more effective at driving genuine sales opportunities.

As with everything in marketing, it's all about the details.

What lead gen tactics are working for you right now?

Are you seeing lead gen success with email or LinkedIn right now? Or do you have another tactic that's working wonders? Join in the conversation on LinkedIn to let us know what you're doing and how it's working.

Look forward to hearing from you.
What areas of your marketing do you need to focus on?
Our Marketing 360 Assessment takes just 10 minutes to complete and will give you an objective view of what's going well and what areas you should focus on.

To find out how your marketing compares, check out our Marketing 360 Assessment.