There is no one size fits all when it comes to cost-effective lead generation strategies. The methods you choose to adopt will depend on a number of factors, including your overall marketing strategy, resources, business objectives, and the type of industry you operate within.
However, if you think about inbound lead generation as a way to bring people into your sales funnel, as well as engaging and building trust with prospective customers, there are five cost-effective strategies which could fit the bill.
1. Search/SEO
What is it? Search Engine Optimisation, or SEO, makes it more likely that potential customers will find you. By using keywords or covering certain topics within your content, you're more likely to be listed higher when someone searches for any of those terms or words. SEO ultimately increases the number and quality of visitors to your website by improving your rankings in algorithmic search engine results.
Download our guide to lead generation here.
Time to leads: The important opportunity of SEO is that you can put your content in front of people at the time that they are searching for it. But if you think you can hire an SEO firm and see an instant jump in lead generation and sales, prepare to be disappointed. SEO takes at least 4-6 months to make a notable difference to lead generation, and even then, you're unlikely to see the full impact until about 12 months in.
Cost-effectiveness: SEO is one of the most cost-effective marketing strategies for lead generation. The fact that it's designed to optimise how people find you means it targets customers who are actively searching for your services and products.
Longevity: As long as you use a reputable company to implement your SEO and ensure it's done properly, it should stand the test of time. While SEO does require updating, it's a relatively low maintenance method of lead generation once established.
Keep in mind: To optimise how Google, Bing or other search engines rank your site, you need to make sure your website is accessible, that it features words or phrases that people might type into search engines, and that the quality of your content is high and includes relevant calls to action. Another important consideration is your field or industry. If you operate within a niche area, you will need to carefully research your SEO keywords as the volume of searches will be low and highly specific.
What are the top lead generation tactics in the UK right now?

We surveyed our nationwide network of Marketing Directors to find out. Check out our original research to find out where you should be investing.
2. Email marketing
What is it? Sending marketing emails (such as offers, promotions or newsletters) to existing contacts or bought-in lists.
Time to leads: While there's a chance you could get an instant response from a marketing email, it could also take several weeks or even months. The key to success is to ensure your targeting and messaging resonates with the recipient at the time they open the message.
Cost-effectiveness: While the cost of sending emails is incredibly low, cost-effectiveness is another matter. People receive a lot of marketing emails which means that the response rate is very low: under 1%.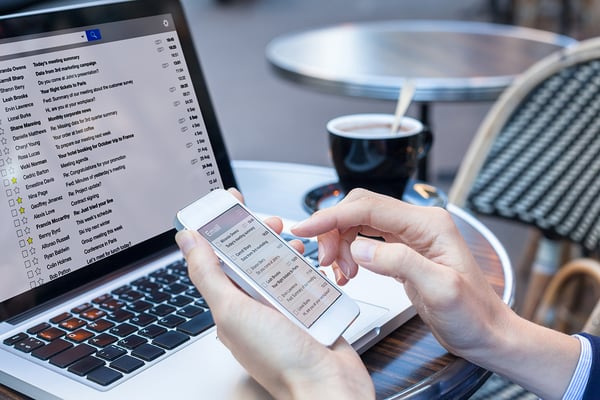 Longevity: The longevity of emails can be deceptive. A potential customer may read your email and keep it for future reference. We've even seen examples of customers responding to our emails five years after they were sent - and turning into business!
Keep in mind: One email to a prospect is unlikely to make a difference. Instead, go for sequences of 3-5, and create a campaign running on a 3-6 month cycle. If prospects have opened your email or clicked on a link within an email, you could consider giving them a follow-up call. If your company is B2C, your use of email will be severely restricted under GDPR compliance. For B2B companies, you could probably build a good case for emailing prospects them on the grounds of 'Legitimate Interest'. You would need to be able to evidence that you had conducted an assessment balancing your interests with their prospects' privacy interests.
3. Content
What is it? Using content for lead generation works by offering prospective customers something of value that relates to your products and services. By publishing your content on various online forums and platforms, you encourage readers to visit your website. Engaging, authoritative content has the power to position you as a thought leader within your field which, in turn, can help to build your brand reputation.
Time to leads: Generating leads with content takes around 4-6 months. During this time, you'll need at least 8-12 strong articles.
Cost-effectiveness: Like SEO, content targets people who are already interested in your products or services. Although you may need to invest by hiring a content marketing agency, in the long run, this method of lead generation is highly cost-effective.
Not only does it lead people to your website, it allows you to create and maintain your brand image. According to statistics from Demand Metric, content marketing generates over three times as many leads as outbound marketing, and costs 62% less.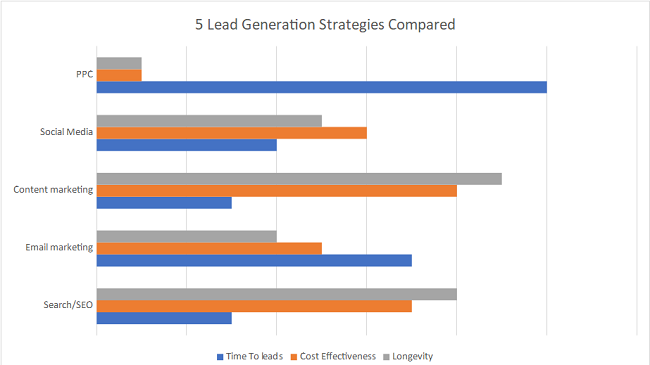 Longevity: Great content stands the test of time. If you produce something of true value, it will be revisited and referenced for years. And, when it really is past its sell by date, you can always update and refresh it.
Keep in mind: Writing quality content is not as easy as it might seem. You need the right tone, the right attitude and relevant information. Churning out obvious self promotion will look exactly like what it is. People want to read interesting, authentic pieces that will genuinely inform or help them in some way. Good content is about offering customers something of value. For optimal lead generation potential it should go hand-in-hand with SEO and articles should be visible, or readily accessed, on your website. You should also publish externally on platforms like LinkedIn for optimum reach.
4. Social media
What is it? Posting updates, promotions or content to your social media channels can be an effective way of attracting prospective leads to your business.
Time to leads: This depends on what you're sharing. If you post a time-limited promotion on Facebook or Instagram, you might see instant results. However, if you're posting articles, images or videos about highly technical subjects, the lead time is likely to be a few months.
Cost-effectiveness: While it's widely acknowledged that social media has reduced marketing costs for many businesses, cost-effectiveness can be hard to measure. Unless your page or posts offer specific calls to action, it can be difficult to know how people are responding to your posts.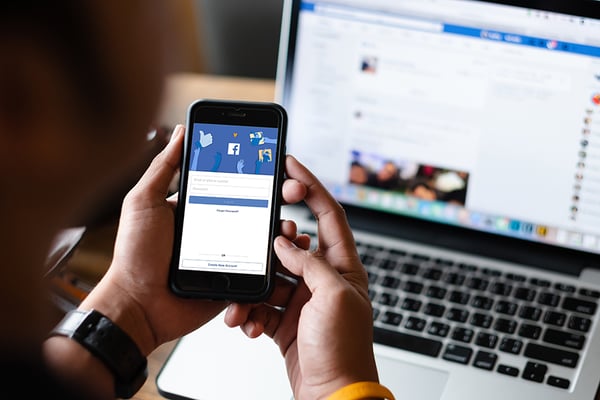 Longevity: Social media requires constant updating. Platforms like Twitter and Facebook move fast so they ideally need updating at least every other day, if not more.
Keep in mind: You need to do more than simply post on social media as a means of broadcasting news and views. You need to be able to continue the conversation when someone engages with your post, and have a mechanism for moving this interaction offline - which is where business typically happens. Social media also takes commitment. Once you start, you need to maintain your profile. Posting infrequently will make you seem out of touch and will ultimately kill any engagement you may have initially generated. You should also consider your industry and the types of customers you have. This will help you determine which platforms to use and what type of content to post, and where people can find it.
5. PPC 'Pay Per Click'
What is it? PPC is effectively a way of paying for visits to your website rather than just relying on it being found organically. Businesses bid for ad placements in a search engine or third party website's sponsored links in response to a particular search.
Time to leads: This lead generation method is the most instantaneous - it could take just a few hours. By appearing at the top of the first page of results, a person searching for your services or products is more likely to click through to your website.
Cost-effectiveness: Not the best, as the name might suggest. You are literally paying per click so if a lead conversion becomes profitable for you at £50 revenue but you're paying £9 a click, this method is going to be costly. In order for PPC to be as cost-effective as possible you need to do your keyword research. Clicks from visitors who were actually searching for something you don't offer is just wasted money.
Longevity: As soon as you stop paying, it stops working. PPC is very much an instant purchase product rather than a long-term investment.
Keep in mind: PPC isn't difficult to set up, but, in order for it to be cost-effective, it requires someone who has specialist skills. There isn't a fixed cost - you are bidding for placement so your costs can quickly escalate. You also need to think carefully about your website landing page; when people click through, what is the first thing they see? So ensuring your website is up to scratch is crucial. Ultimately PPC can be effective but usually only as a short-term strategy - it should be used sparingly rather than as an ongoing lead generation method. Also bear in mind that you need to test and learn. Paying to get traffic to your website is one thing - but do those visits turn into good opportunities for you? Ensure that you are attracting viable visitors before you invest too heavily.
It's important to remember that lead generation is not about sales in the first instance - it's about drawing people in to the top of your sales funnel. It's about your business engaging with prospective customers, creating a good first impression, and offering people something of value. A truly effective lead generation strategy is likely to involve blending a few of the five strategies we've looked at. By deploying a variety of lead generation tactics, you stand a better chance of optimising your reach, your brand presence and, ultimately, your sales.
Download our step by step guide about generating, nurturing, and making the most out of your business leads here.