Having trouble measuring your marketing ROI?
Automation and analysis tools can help. Measuring marketing ROI is often seen as - especially in digital marketing - difficult, such tools will help your marketing function to gage and demonstrate the efficiency of their activity with accuracy and reliability.
But that's not all. Make sure to choose the right tools from the myriad on the market, and you'll be able to systematise and streamline many repetitive processes, as well. The real challenge? Choosing the right tool for the job. That's why we've put together this guide to a few of the most prevalant and most approachable solutions, across three different categories.
Hootsuite
Google Analytics
Marketing automation platforms
Marketing automation is possibly one of the most important developments in digital marketing, it allows you to connect to and broaden your audience whilst eliminating the repetitive tasks that once came with such a practice. It can target potential customers based on behaviour, preferences and on what they have previously viewed or bought, and is an invaluable tool for building your brand via a marketing campaign. Here are two such platforms to consider.
Hubspot - A fantastic all-in-one inbound marketing automation platform that utilises a logical process that takes you through every step of a campaign, Hubspot has earned its place at the top of the heap. The platform, which is currently utilised by The Marketing Centre, boasts a range of simple, elegant dashboards that allow you to track everything from your website metrics and social media channels to the effectiveness of your calls to action. It also kindles a number of SEO tools and tracks how you're doing in relation to your competitors.
Capterra Rating: 4.5/5 - "HubSpot helps B2B and B2C companies attract visitors, convert online traffic into leads, turn leads into customers, and analyse marketing ROI."
Cost: Average £200 per month
MailChimp - A marketing platform that is able to create automated emails that can be triggered by a subscriber's activity or a certain event (like a birthday, perhaps), MailChimp is, as the name suggests, all about email marketing. The data here can be used to track individual product sales as well as total campaign revenue, and customers can also be targeted with personalised offers. Their revenue reports, meanwhile, are able to track sales from an initial click all the way to eventual purchase, so you can see metrics from all stages of the consumer journey. It should be noted, however, that this applies exclusively to e-commerce sites, which means that MailChimp might not be the best fit for some businesses.
Capterra Rating: 4.5/5 - "As the backbone for your customer relationships, MailChimp provides AI-powered, user-friendly tools anyone can use to be successful"
Cost: Free to start then average $50 per month
Social media and web traffic analysis platforms
Social media is an immensely powerful tool that many would argue is taking over the digital marketing space. Indeed, social media ad spending is predicted to increase by 19% in 2019, with an estimated total spend of $37 billion estimated by the end of the year. With this trend only increasing, it's vital that you are using a tool that can accurately analyse the ROI of your social media marketing performance. By using these tools to calculate your social ROI, you can use the results to create more targeted and successful campaigns.
Hootsuite - A tool primarily designed for helping individuals and businesses to manage their social media channels from one location, it also includes built-in reporting tools and is able to capture paid social analytics. Hootsuite is an ideal platform for measuring social engagement and tracking brand mentions. While many users enjoy its ability to measure followers and engagement levels, those who mine deeper will also find a platform that offers insight into which segments are talking about your brand or your campaign.
Capterra Rating: 4.5/5 - "Designed for organisations to execute social media strategies across multiple social media networks. Draws on over 200 metrics."
Cost: Starts at £9.99 per month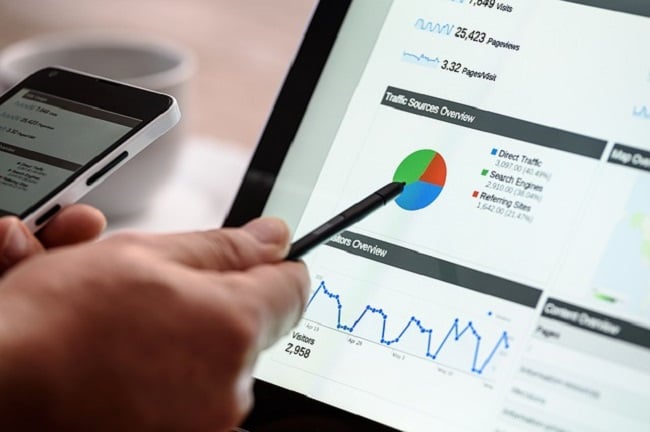 Google Analytics - The most widely used analytical tool of them all, the standard version of Google Analytics is completely free-to-use and is incredibly deep for a free tool. Like Hubspot, but focused more on social media and pay-per-click campaigns (thanks to its integration with Adwords), Google Analytics is ideal for monitoring and reporting bounce rates, conversions, page views and all the other basic metrics that track digital marketing activity. The real selling point of Google Analytics, however (which is a moot point given that it's free) is the ability to assign values to specific conversions. This way, you'll be able to see the total value driven by your advertising across different conversions, rather than simply the number of conversions that have happened. And you'll be able to identify and focus on those of the highest value.
Capterra Rating: 4.5/5 - "Analytics platform that allows businesses to connect all parts of the customer journey for a robust understanding of customer behaviour"
Cost: Free
BI/Dashboarding reporting platforms
A BI (business intelligence) reporting tool will collate your data into a single platform that can be used to understand trends and derive actionable insights from your data. These platforms can be tricky and time-consuming to set up, as you need to find a way to integrate all of your other platforms so that they are sending information to the BI. However, once you've managed to get past the steep initial learning curve, you'll be left with a much clearer picture of your ROI on a dashboard that can be tailored to suit your individual tastes and needs.
Power BI - Microsoft's Power BI platform is a web-based suite that identifies trends in real-time using some incredibly powerful visualisation. As it's web-based, it can be accessed from any location and also allows users to integrate their apps and deliver reports and real-time dashboards. It is, however, a suite with a rather steep learning curve and might be a little advanced for new users.
Capterra Rating: 4.5/5 - "A suite of business intelligence and analytics with reporting, data prep, and data visualisation tools used by developers, analysts, IT, and other business users."
Cost: £9.99 per month
Tableau - Supporting multiple data sources (from Excel and Oracle to Google Analytics), Tableau analyses, visualises and shares data automatically once set up. The interactive dashboards are very compact with a drag and drop interface that's easy to read, and it can be run either locally or online. It's a less comprehensive solution (in terms of features) but a far more approachable alternative to Microsoft's offering that could be an ideal gateway into the BI platform for many.
Capterra Rating: 4.5/5 - "Tableau helps people transform data into actionable insights that make an impact. Easily connect to data stored anywhere, in any format."
Cost: Flexible
It's all in the finances
Whilst many businesses might use proxy 'vanity' data to help them get a clearer understanding of the big picture, any piece of software that measures ROI will only be truly effective if you are able to get an accurate view of the financial marketing ROI by linking that data with the financials. Look to tools that offer clear, simple bottom-line metrics that are closely aligned with your goals at every stage of the marketing funnel and offer a more robust, financially oriented solution.
If you're looking to answer the really big questions (such as where to invest funds) then you need to be able to capture the financials. So, the tools that help you do that accurately are the ones you should be throwing your chips down with.
If you would like to learn more about how to start measuring your marketing ROI, download our Making Marketing ROI Work for Your Business ebook today.